Thanks to the recent WoSign / StartCom issues with misused or flawed certificates, there was a question about how many of the certificates issued were actually active – so this seemed to be a good time to run a scan against the Alexa top 1 million sites to see what I could find.
Scan information: The scan was ran with an 8 second timeout – so any server that couldn't complete a handshake within 8 seconds isn't counted. The scanner attempted to connect to the domain on port 443, and if that failed, then attempted to connect to the "www" subdomain. No certificate validation was performed. The scan didn't attempt any other ports or subdomains, so it's far from a complete picture.
Of the top 1 million sites, 700,275 respond with a certificate on port 443; here are the top certificate authorities identified: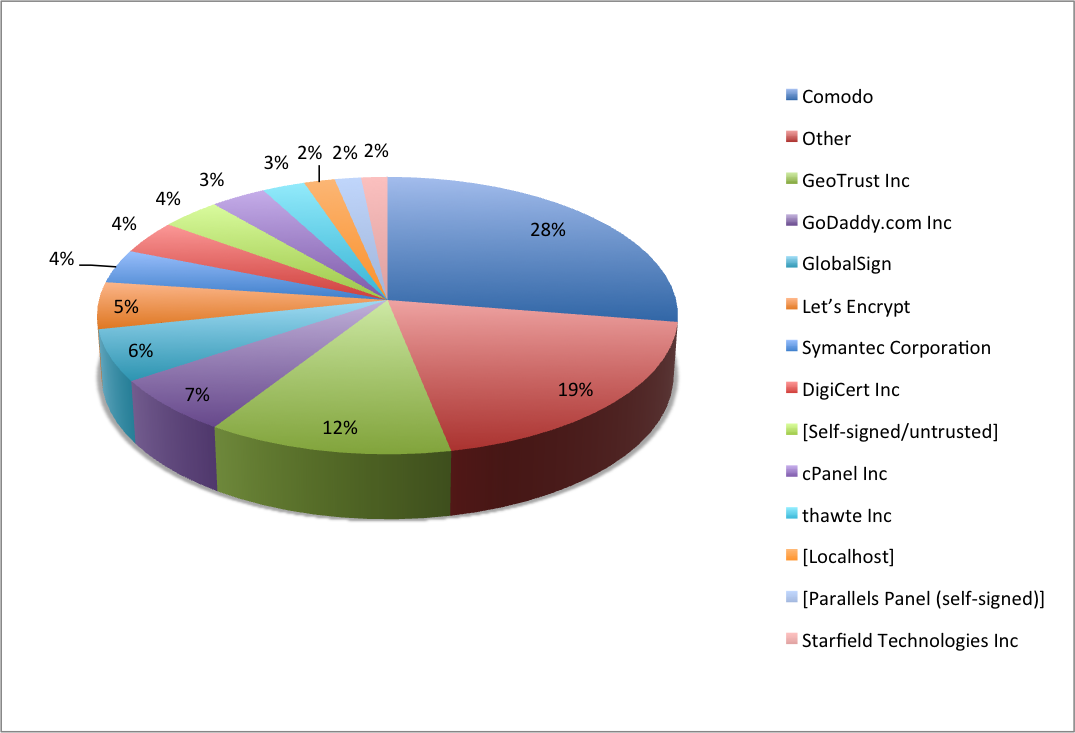 Comodo: 192,646
GeoTrust Inc: 85,964
GoDaddy.com, Inc: 45,609
GlobalSign: 42,111
Let's Encrypt: 38,190
Symantec Corporation: 27,612
DigiCert Inc: 27,588
cPanel, Inc: 24,195
thawte, Inc: 18,640
Starfield Technologies, Inc: 11,411
The first thing you may notice looking at that list, is that Comodo is the overwhelming leader – accounting for 28% of all certificates returned. Part of the reason for this is the partnerships they have: they are the certificate provider for CloudFlare, which offers TLS support to all customers, including those on their free plan, as well as various hosting providers. Here's a breakdown:
CloudFlare: 73,339
HostGator: 9,499
BlueHost: 4,410
Others: 19,904
It's quite exciting to see Let's Encrypt not only in the top 10, but in the top 5 – for an organization that runs on less than $3M, they have done a remarkable job on impacting the industry.
For the two that started it all, StartCom has 10,221 and WoSign comes in at 3,965 – though in discussions with someone who has access to Google's internal crawl logs, this is far from a complete picture of the usage of their certificates. As this scan only included the root (or www subdomain in case of an error) and port 443, this scan only captures some of the picture.
For invalid certificates (self-signed & otherwise untrusted), certificates with no issuer organization actually made it in the top 10, with 25,954 certificates; this is followed by localhost with 13,450 and Parallels Panel with 11,450 certificates.
The raw data for the scan is available here and was produced with a beta feature in YAWAST.
Thanks to Kenn White for the graphic!